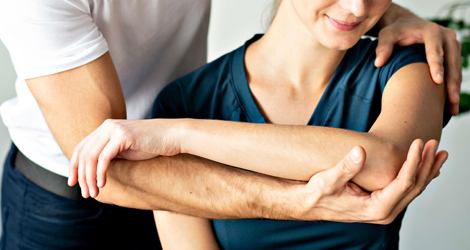 Are you experiencing pain or discomfort? Are you searching for a physiotherapist in Scarborough, Ontario? Look no further!
E.S. Orthotics & Wellness is dedicated to helping individuals relieve their aches and pains. We want you to start feeling better as soon as it is safely possible. Physiotherapy is a great way to heal your pain and treat your muscles, bones and joints gently. Using careful motions, exercises and stretches, physiotherapists help relieve pain and improve function. This treatment is effective for posture issues, arthritis, sports injuries, back pain and body movement problems. Physiotherapy can also help prevent injuries from happening, as well as improve your overall health and wellness through education on proper movement patterns.
E.S. Orthotics & Wellness Provides Physiotherapy in Scarborough, Ontario
At E.S. Orthotics & Wellness, our team is customer-centric. As such, we customize the treatments as per your requirements and needs. When it comes to physiotherapy, we believe that an individual needs personalized treatment that can work for his/her specific condition. We aren't all made the same, nor is one person's story the same as the next.
To ensure you get quick results, we start our treatment plan with a thorough diagnosis of your condition. Once we get a clear picture regarding your condition, we work with you to improve your muscle strength, body balance, flexibility, mobility and posture.
What Conditions Can Physios Treat?
A physiotherapist focuses on improving overall muscular and body balance, as well as improving overall function. As such, a physiotherapist is able to address a variety of conditions and injuries, including:
Muscle strains & sprains
Arthritis
Post-surgical conditions
Sciatica
Whiplash
Back and neck pain
Athletic injuries
Chronic injuries or pain
Tendonitis/bursitis
Pregnancy and back pain
Car accident rehabilitation
Osteoporosis
Work related injuries
Fibromyalgia
Knee and hip pain
And more!
What Should You Expect at Your First Visit?
If you're looking for a physiotherapist in North York, Toronto, you've found your place. Our ultimate goal is to eliminate your pain, improve your function and make you feel as comfortable as possible.
When you visit our physiotherapist for the first time, you will need to fill in patient intake forms. Please arrive 10-15 minutes before your appointment time to do so. Ensure you wear comfortable and loose clothing, as this will make your initial assessment easier to perform.
At your appointment, your physiotherapist will perform a thorough exam. This will involve a range of motion testing, strength testing and specialized tests. Your physiotherapist will also ask you questions regarding the onset of pain and your current health status. These tests will help your physiotherapist diagnose the source of your pain.
From there, your therapist creates a customized treatment plan suitable to you and your condition. You will need to schedule follow-up appointments to receive treatment. Depending on your unique situation, treatment may take a few weeks or many months.
Physiotherapy Treatments We Offer
So, what does treatment actually entail? What do physiotherapists do?
Since treatment is unique to you and your situation, it may vary from individual to individual. However, your treatment may include any of the following techniques or factors:
Manual Therapy & Joint Mobilization
Soft Tissue & Deep Friction Massage
Muscle Stretching & Strengthening
Core Activation & Stabilization
Lumbar & Cervical Traction
Taping & Exercise Prescription
Individualized Exercise Programs
Interferential Current
Transcutaneous Nerve Stimulation
Neuromuscular Electrical Stimulation
Therapeutic Ultrasound & Bioflex Laser
Shockwave Therapy
At E.S. Orthotics & Wellness, we strive to deliver the best physiotherapy treatment possible. We hold ourselves to high standards and put our clients first. If you're in need of a physiotherapist, don't hesitate to contact us today. Let's get you back to your normal as safely and as quickly as possible!
Call Us To Schedule A Physiotherapy Treatment!