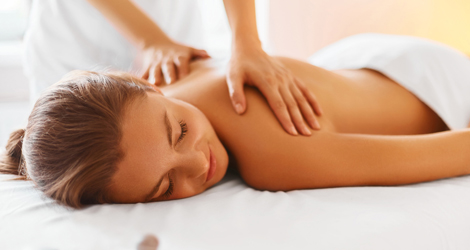 At E.S. Orthotics & Wellness, our massage therapists use many different hand movements, apply pressure on various muscles and use different massage oils to help relieve the muscle stress and reduce the occurrence of chronic pain.
Is your energy low? Do you feel tired a lot of the time? Or are you experiencing recurrent or consistent pain in your body? If you answered yes to any of the questions above, massage therapy can help! Massage therapy is an excellent method to relax your muscles and prevent ongoing pain.
Say goodbye to pain and muscle tension. And say hello to a revitalized life. Look no further for your local massage therapy clinic in Scarborough, Ontario. E.S. Orthotics & Wellness is ready to help you reset and refresh.
E.S. Orthotics & Wellness Offering Massage Therapy in Scarborough, Ontario
At E.S Orthotics & Wellness, we are your local massage therapists who are committed to helping you live a happy and healthy life. We focus on the blood circulation and nervous system that can improve the overall functionality of your body. Whether you are recovering from a car accident or having trouble with pregnancy, we can help alleviate the pain and guide your recovery.
Massage therapy also has a variety of benefits. These include:
Releasing stress and anxiety
Decreasing inflammation
Improving immunity
Increasing blood circulation
Reducing muscular pain
And relieving pregnancy aches and pains
Almost anyone can benefit from a massage therapy session. And at E.S. Orthotics & Wellness, our team includes registered massage therapists in Scarborough, Ontario. This ensures you're getting trained and experienced professionals who can help eliminate your pain or even simply help you relax.
Techniques We Use
Massage therapy comes in all shapes and sizes. To determine what type of massage is best for you and your needs, contact our clinic. Our administration staff is more than happy to help you uncover what type of massage you need. They will set you up with an initial appointment where you will meet your therapist and receive treatment.
Since there are many types of massage therapy, techniques may vary. At E.S. Orthotics & Wellness, techniques used may include:
Custom Splint Fabrication: A splint protects an injured area, preventing further movement and allowing time for it to heal.
Soft Tissue Massage: Soft tissue massage involves direct manipulation of the soft tissues including the muscles, tendons and ligaments. A massage therapist may use their hands, elbows, fingers, forearms, or a massage device to apply these types of massage techniques. Oftentimes, these techniques are used to alleviate stress and decrease pain.
Therapeutic Taping: Taping can provide a reminder to rest your affected limb. It can also help correct movement patterns. It's often used to help athletes or individuals go about their daily activities or ease back into sport.
Deep Tissue Massage: This involves the application of firm and slow strokes to reach the deeper layers of tissue. This can realign the tissue in the body, as well as release tension.
Manual Therapy: Manual therapy may involve stretching techniques, kneading, or other hands-on manipulations to achieve a desired goal.
Sports Massage: This type of massage is specific to those who have recently experienced a sports injury. The goal is to alleviate pain, improve function and help the individual return to sport.
Choose E.S. Orthotics for Massage Therapy in Scarborough, Ontario
E.S Orthotics & Wellness has a team of qualified massage therapists who will listen to your needs carefully and offer personalized solutions. We will assess your current condition to determine the severity of your problem. We customize our treatment to make sure it meets your needs. After receiving a therapeutic massage from us, you will notice positive changes in your body. If a massage is properly done, you will experience increased blood circulation, improved flexibility and decreased stress.
Our massage therapists are trained and experienced in treating the following conditions:
Pain in the hand/arm
Swelling, numbness and tingling
Post surgery recovery
Arthritis and tendon injuries
Carpal tunnel syndrome
Tendonitis or trigger finger
Joint and muscle stiffness
Repetitive dislocation and strain
Are you experiencing any of these injuries? Do you need to unwind and relax? Contact our clinic today!
Call Us To Schedule A Massage Therapy!