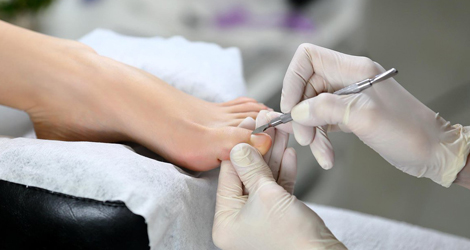 Are you on the hunt for a chiropodist in Scarborough, Ontario? At E.S. Orthotics & Wellness, our team takes pride in offering the best of the best when it comes to your foot and ankle care. After all, healthy feet are the foundation for comfortable motion.
From walking and standing to running and dancing, our feet take a lot of wear and tear on an everyday basis. That's why it is critical to keep them in the very best shape. Our Chiropodists specialize in treating problems related to your feet and ankles. From foot reconstruction to Achilles repair, to simple treatments for corns and calluses, we have you covered. Let our specialists determine the source of your pain and develop a treatment plan specially customized for you.
E.S. Orthotics & Wellness: Your Chiropodist in Scarborough, Ontario
The E.S. Orthotics & Wellness team doesn't believe in the one-size-fits-all approach. You are unique. As such, your treatment plan is unique to you and your needs. We provide a range of options for treatment and discuss with you which is best for you and your situation. Our chiropodists also listen to you. We welcome your concerns and questions. Your comfort is our top priority and we want you to feel at home.
In our health and wellness clinic, we treat the following foot and ankle conditions:
Foot Conditions:
Bunions
Corns
Calluses
Warts
Hammertoes
Ingrown toenails
Heel spurs (heel pain)
Foot Injuries:
Sprained strained ankle
Achilles tendon tear
Plantar fasciitis
Morton's neuroma
Treatment Methods Used to Address Your Foot Pain and Discomfort
Chiropodists use a wide range of treatments to alleviate your foot issues. The following outlines commonly used treatment methods:
1. Orthotics: Orthotics are a heel or shoe insert that not only helps foot and ankle problems, but may also aid in relieving pain associated with the legs or back. They are particularly good at addressing foot deformities, improving ankle and foot function and providing support to the ankle joint.
2. Arch Supports: Foot pain frequently arises due to the lack of support provided by the arch of the foot. As we age, the foot arch naturally and gradually collapses. This can lead to foot pain or pain in other parts of the body and legs. Similar to orthotics, arch supports are inserted into the shoe to help alleviate this pain.
3. Bracing: Bracing may be used to help limit range of motion while an injury heals or it may be used to make you more aware of the affected area. By becoming more aware of it, you may move more consciously and intentionally without causing further pain or harm.
4. Surgery: Surgery is often a last resort. It is recommended when other less invasive treatment options have failed to work.
5. Physical Therapy: At E.S. Orthotics, our team consists of experienced and registered physiotherapists. A physiotherapist aims to improve your function and get you back to your sport of choice, as safely as possible. Physiotherapy treatment may involve manual therapy, modalities and prescribed exercises.
Contact E.S. Orthotics & Wellness Today!
Are you ready to get back to your regular training or sport? Are you experiencing foot or ankle pain? A chiropodist may be exactly what you need. For instance, if you have corns, calluses, ingrown toenails or warts, you may have discomfort finding comfortable shoes. Plantar fasciitis, neuromas and bone spurs can also make it difficult for you to perform weight-bearing activities. With our personalized approach, we treat your foot pain and discomfort. Discover your local chiropodist in Scarborough, Ontario today at E.S. Orthotics & Wellness. Our ultimate goal is to help you feel better!
Make an appointment today to see one of our specialists!